Mission Statement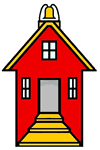 Within a safe and nurturing environment, the curriculum, instruction, and resources provides provided will allow our students to demonstrate exceptional achievement and increased knowledge in all subject areas each year and foster an ability to work cooperatively within a diverse culture to become productive citizens.
About The School
Eakin Elementary
Eakin Elementary School has served the students of Shelbyville and Bedford County as a public elementary school from 1957 to the present. Eakin's original name was Central Elementary School. The name was changed to honor Mr. Deery Eakin, a long-time Bedford County educator and former principal of Central Elementary School. Eakin's former principals are: Don Shelton, Don Embry, Charles "Bubba" Rose, Deborah Boyd, Janice Womble, and Julie Bennett. Dulcie Davis became the principal of Eakin in 2012.
---
Vision Statement

All students will achieve to their potential regardless of race, economic backgraound, or language.
---