Making the Magic Happen
Welcome to Eakin Elementary School
Dulcie Davis, Principal
Nichole Yockey, Assistant Principal
MISSION STATEMENT:
An Eakin Einstein Follows the formula for Success
---
Dates to Remember...
Tuesday, January 15th- PTO meeting at 5:30pm.
*
Tuesday and Thursday, January 15th and 17th- Musical Auditions
Auditions are open to any 3rd-5th grader!
(after school-no bus available)
please call Mrs. Crunk for more details if your child did not receive an informational letter.
*
Monday, January 21st- No School
*
Tuesday, January 22nd-Book Drive starts!
Please donate any and all used children's books to Eakin. Please have you child bring them to school and bring to the library!
*
Tuesday, January 22nd-Kindergarten FAST night
*
Friday, Feb. 1st- No School
Monday, Feb. 18th- No School
*
Wednesday, Feb. 27th-NAEP test for 4th graders
*please help your child have success on the test with a good night's rest!
#makingthemagichappen
Do you want to help raise money for our school?
Register your Kroger card through the website below, then every time you shop at Kroger swipe your card and Cascade Elementary will get a portion of what you spend. It's that easy!!
Here is how to register your card=>
Click on this link: https://www.kroger.com
Go the the Community tab and click on Community Rewards

Login to your Kroger Account or Create a new Account

Click on 'View Your Rewards Details'

Scroll to the bottom of the page and choose Community Rewards

Search for Cascade School (There are several Cascade choices-choose Cascade School)

Click on the circle beside Cascade School and then click on Enroll

It will take you back to the Community Rewards page and list Cascade School as your choice

You'll need to update this every year
Thanks for your support!
---
Breakfast and lunch are free to students. Breakfast is served in the classroom starting at 7:10.
Morning Announcements start at 7:25 every morning. This is an important time for your child to receive information, win prizes and possibly lead announcements! If they are not eating breakfast at school. Please have them here no later than 7:25 or they will need to get a tardy slip from the front office.
The School Store is open daily Monday-Friday 7:10-7:25. Students will use their tickets received during the school day to pay for these items. No cash accepted.
---
A Special Thanks to
The Eakin family wants to give a heartfelt thank you to our local Shelbyville Lowe's. Their team of volunteers went above and beyond (during their vacation!!) to make substantial improvements to our school. Improvements include:

Power-washed our sidewalks | Mulched and freshened up our landscaping
Donated two picnic tables and umbrellas | Fixed the benches on our playground
Painted interior classrooms | and much more . . .
We appreciate it!!!
---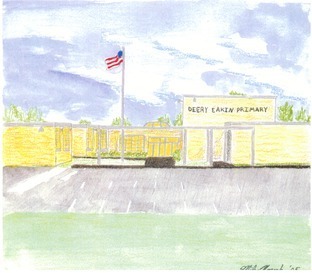 School Phone Number (931) 684-7852
School Fax Number (931) 684-0553
---